New Delhi, India – Cohesive Technologies – May 8, 2019, Cohesive Technologies, a leading systems integrator and distributor of security surveillance products in India and the Asia Pacific region has announced today that they will be exhibiting with Grandstream at Smart Cities India 2019.
The 5th edition of the exhibition mainly focuses on products of 4 major areas, which are helpful in making smart cities such as Building India, Solar India, Transport India and Water India.
The latest innovative product from Grandstream, the beta GSC3510 SIP Speakers with integration of dual band Wi-Fi and Bluetooth, acoustic echo cancellation for duplex 2-way audio, 8W high fidelity will be displayed at the event.
The outdoor and indoor GWN WiFi access points and the beta launch of the GRP21xx series carrier grade IP phones will also be available for demonstration. We will introduce the new beta GDMS, zero-touch cloud management platform. The Grandstream Device Management System (GDMS) provides easy-to-use enterprise-level tools to manage Grandstream products before, during and after deployment.
Come to the 3-day exhibition of Smart Cities India to explore and experience the latest solutions. which can help to build smart cities.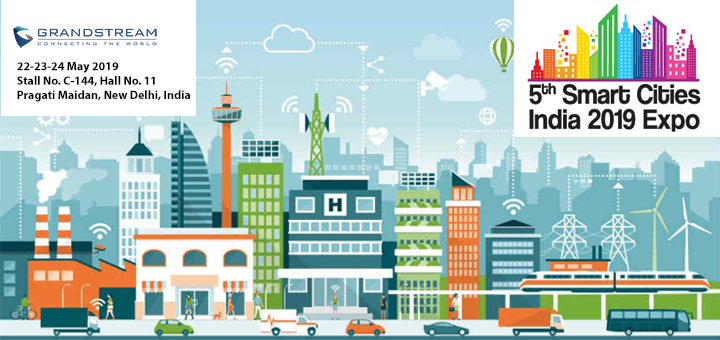 Details of Cohesive Technologies participation at the Smart Cities India 2019
What: Cohesive Technologies will demonstrate with Grandstream?
Cohesive Technologies will demonstrate all of Grandstream's products. This includes the GWN indoor/outdoor access points, GXV desktop video phone, GXP IP phones, GDS door intercom system and the beta GSC3510 SIP Speaker, which can provide a total solution for smart surveillance systems.
Where: The event will take place at Pragati Maidan, New Delhi, India. All attendees can visit stall number C-144, which is located in Hall Number 11. The stall will showcase all of Grandstream's powerful and easy-to-use voice, video, data and mobility solutions.
When: The solution demos will take place from 10:00 AM till 6:00 PM from 22 May – 24 May 2019.
About Grandstream Networks
Founded in 2002, Grandstream Networks is the leading manufacturer of IP voice/video telephony and video surveillance solutions. Grandstream serves the SMB and consumer markets with innovative products that lower communication costs, increase security protection, and enhance productivity. Our open standard SIP-based products offer broad interoperability in the industry, unrivalled features, flexibility, and price-performance competitiveness.
Visit www.grandstream.com for more information.
About Cohesive Technologies
Cohesive Technologies is a solution provider of VoIP and unified communication Platform. Cohesive Tie-up with Technology Partners like Epygi, Digium, Milesight, Grandstream, Yeastar and Cyberdata not only helps to provide a variety of VoIP solutions but also ensures state-of-the-art technology solutions with scalable and reliable systems. The main goal is to make communication easy and cost effective so that business can thrive and continue to run smoothly.
For more information, please visit www.cohesiveglobal.com for more information or connect with us on Facebook, LinkedIn and Twitter.